Minimalism seems to be trending these days and it's not hard to see why. If you're looking for ways to simplify your life, or just find more time to savor the things that matter most – minimalism may be the key. Right now, minimalist makeup is really popular. Keeping your cosmetics collection to a bare minimum can help you save money, space, and time. Hence the need to learn how to create a minimalist bag.
If you're reading this, You want to declutter your jumbled makeup collection. Based on my own experience of downsizing, these are my top ideas for developing a basic cosmetics collection. You do not require half as much as you think.
Several billions of dollars are invested in the beauty sector. These billions come from ladies like us who desire to look better by following beauty industry standards. We're always being manipulated, and it's critical to be aware of this so that we can choose whether or not to believe it.
While it's great to experiment with makeup and create smokey eye looks, keeping your makeup routine simple might be advantageous.
This minimalist makeup guide can help anyone who likes makeup but doesn't want to go overboard construct a simple makeup kit with only the most essential cosmetics.
You may easily build a minimalist makeup routine by following all of the previous guidelines. When your vanity is clutter-free, enhancing your natural attractiveness will be a breeze.
Aiming for a collection of less but better items will challenge you to rethink what you're buying and, more significantly, why you're buying it. You find yourself in the market for those dreamy products you'd explicitly ruled out as too expensive and not for you while you're just buying a total of 8 items. I find that I value my possessions more now that I own fewer of them, and they have pride of place in my home. I no longer have room or money for products that don't meet my standards.
Set high expectations for yourself (while staying within your budget), and you'll find that buying one fantastic mascara will make all those old half-empty ones disappear.
You may design your minimalist makeup set to save money and effort by following some simple recommendations. These tips are also perfect for cosmetic newbies who want to stick to a very simple makeup routine!
What is in my minimalist makeup bag?
I am happy with the number of products in my makeup bag, which is only about seven-eight. Concealer, Blush, Foundation, eyeliner, mascara, and tinted lip balm, eyeshadow pallet, are among my cosmetics. I don't actually need a lot of makeup because I am not a supermodel, and I've stopped wearing lipstick because I kiss my children all the time, and they end up with it all over their forehead or get uncomfortable with a nose mask, or get worried when drinking a bottle of water.
It works for me, and the bulk of these are made by companies that are vegan, paraben-free, and approved by the Environmental Working group. I will keep shifting stuff out until they're all gone. And that's the thing with minimalism and sustainable living: it's all about the ride, which I'm thoroughly enjoying.
How do I simplify my makeup collection?
Before you throw everything away and start over, it is recommended you get to know what you use and what works for you. Remove all of your products and pick out one item each time you think, "Hmm, I could use that today." You'll be astonished at how little you'll need after six weeks.
It also highlighted how little is required in the first place. I used to have a lot of black eye cosmetics, but as a fair-haired, fair-skinned woman, I don't think black looks nice on me. The very first thing I tried when I started the capsule wardrobe was to get rid of all of my black clothes. It was past time for my cosmetics bag to catch up. Investigate color theory to see what compliments your natural coloring. Examine your makeup to discover what looks well on you and what is simply for show.
Why is it beneficial to develop a minimalist makeup routine?
A minimalist makeup routine has a lot of advantages, and it's not as difficult as you would think.
There will be less stress in your bathroom or beauty area if there is less clutter.
It may seem self-evident, but clutter makes it more difficult to relax. You will enjoy getting ready every day if you have a clean and organized beauty room.
On the other hand, keeping your place clean is much easier when it is less congested.
Makeup application is quick and easy.
It's amazing to get ready every day in less than 5 or 10 minutes! Makeup should be viewed as a tool for enhancing your inherent attractiveness. With less than 5 things, define your needs and do what makes you feel more secure! When you start decluttering and organizing, it becomes a lot easier.
This minimalist makeup tutorial can help anyone who likes makeup but doesn't want to go overboard construct a simple makeup kit with only the most essential cosmetics.
You may easily build a minimalist makeup routine by following all of the previous guidelines. When your vanity is clutter-free, enhancing your natural attractiveness will be a breeze.
You would most likely save a lot of money by following a simple beauty routine. You'll begin to appreciate what you have more when you get the opportunity to use it daily.
Do you need that many lipsticks or foundations? Imagine having five more bottles of foundation collecting dust in your drawer after a bottle of foundation lasts you more than a year!
The Fundamentals
If you take care of your skin, removing your makeup will be much easier. When it comes to beauty, my attitude is "buy less, buy better." I search for multi-use products that can be used and applied in a variety of ways because it saves me space in my cosmetic bag and money.
Moringa Primer by Lush
This product is the perfect basis for makeup or an easy method to brighten up the complexion on a no-makeup day because it contains a blend of natural oils that moisturize and smooth the skin. A single pot lasts me a year, and you can recycle them at the store.
2. Eyeliner
For a long time now I have had a love-hate connection with eyeliner. I wasn't very skilled at applying eyeliner. as terrible at it. I can't see without my glasses, which makes applying cosmetics like eyeliner tough. I'm sure a lot of others are in the same boat as me since it took me a long time to find an eyeliner I liked.
I've used pencil eyeliner, gel eyeliner, and liquid eyeliner so far. And then I had to force myself to use them all up. I noticed I'm still not very proficient at eyeliner application. However, I like the look it generates, so I opted to stick with the one I had the most trouble with. My current eyeliner is a liquid eyeliner with a smudge-proof formula.
3. Color Palette from Tropic Skincare
It's a modular cosmetic palette with refillable trays and recyclable packaging that offers everything you need (and nothing you don't). The items are multipurpose and manufactured with materials that are sourced responsibly. Two eyeshadows (for brows, lids, and liner), a highlighter, a blush, and a bronzer are included in my palette. All of the products can be used together.
4. Mascara with two faces
It's the greatest single-swipe mascara I've found for thickening and curling lashes. Collection Lengthening Mascara is a less expensive version that is almost as good. Use a lash-lengthening mascara that won't smudge throughout the day to define your lashes. This mascara adds volume to the lashes and doesn't flake.
5. The brush has three functions.
This small triple-ended brush contains an eyeshadow brush, liner, and spool and is crafted from FSC certified wood and vegan-friendly fibers. It fits inside any makeup bag, big or tiny, and makes your beauty regimen much more efficient. Although I generally dab it in with my fingertips, I use a Precision Face Brush for blending face cosmetics.
6. Eyeshadow pallet
Even though my eyeshadow pallet doesn't always fit in my makeup bag, I'm including it in this list. I'm a huge fan of eyeshadow. It's astonishing how many various effects and styles you can achieve with it. Having said that, I usually avoid using very neutral tones. The Stila Eyes Are The Window Shadow Palette is my current makeup palette. I like that it offers some diversity, but it's still tiny enough that I'm not overwhelmed by the options.
7. Lip Tint with Rosewood
Instead of lipstick, I use this lip color because I don't have the patience for it. It's a simple lip balm with a slight tinge of color that fades with time. If you prefer a glossier look, add a brush of lip glaze. For makeup minimalists, Glossier has a fantastic makeup package. It contains three beauty necessities that are simple to apply daily.
One of the best eyebrow gels is their boy brow. It defines the brows and keeps them in place all day. This lip balm is also an excellent option. It's a bit costly, but it's well worth it. It has amazing hydrating effects, and I use it to lend a faint glow to my cheekbones. It comes in various colors and is a must-have in any minimal makeup bag.
Lipstick shopping, as most women are aware, can become an obsession. I don't think I'm quite there yet because I don't have a lot of lipstick, but I do love it and keep a few colors in my minimalist cosmetic bag. In no particular sequence, here are the current four:
Maybelline's Mauve
L'Oréal's Matte-itude
Nars' Liv Kat
Von D's Witches
And those are the basics in my minimalist makeup bag at the moment. To avoid having too many products, I always wait until one is finished before purchasing another. As challenging as it may seem, it is made much easier by maintaining a good attitude toward the products you have saved – since you should adore every one of them.
8. Foundation
Choose a lightweight foundation that is an inexpensive bb cream that evens out your skin tone without settling into your pores to create a minimalist makeup routine.
9. Concealer from Tropic Skincare
Lightweight and non-drying, it has brightening and concealing effects that can be used to hide blemishes or redness. I was told to mix two tones for additional coverage, which is crucial if you have a pale complexion and severe under-eye circles like myself.
How do you make minimal makeup look good?
1. Make skincare a top priority.
A good skincare routine is essential for attaining a beautiful no-makeup makeup look. Skincare is, in my opinion, the most vital element in any makeup look. Makeup looks less cakey and artificial when applied to fresh, moisturized skin.
Having a solid skincare routine that you follow daily will maintain your skin healthy and glowing without the need for excessive makeup. While there are numerous techniques to achieve radiant skin, the most important thing is to find what works best for you. Choosing the proper products for your skin type is a proven way to get your skincare journey off to a good start.
2. Apply a little coat of lipstick on your lips
Apply a tiny quantity to dry lips and gently massage with damp fingers over your pout. Rinse completely and wipe dry with lukewarm water. Now it's time to grab your lipstick and go to work.
3. The use of a primer is optional
While primer is required for full-face makeup, it is not required for more natural makeup looks. Unless you want a little help regulating oil, primer isn't necessary. If your skin isn't greasy, your skincare prep should be enough to act as a foundation for the rest of your no-makeup makeup.
4. Instead of a liner, opt for mascara with a tight line.
Do you like the look of eyeliner but want to keep it natural? You can obtain the same tight-line effect with a simple mascara hack. Here's a little tip: Concentrate the brush of your preferred volumizing mascara as near to the lash line as possible. Apply this to the base of your lashes a few times to build up the formula and get the right level of intensity. Rep on the bottom lashes, keeping them as close to your waterline as feasible.
5. Stick with creams and liquids.
We want to emphasize the necessity of using cream or liquid over powder before you gather your favorite beauty products. Cream and liquid treatments will help to accentuate your natural characteristics a little more than powder products, and they are also more convenient to use.
6. Use sunblock and moisturizer.
A crucial step is to take care of your skin and prepare it for makeup application. To hydrate the face, start with a decent moisturizer. Cerave moisturizing cream is one of my favorite moisturizers for dry skin. It absorbs fast without leaving a greasy or oily residue on the skin.
7. Apply either foundation or concealer.
You can use foundation or concealer, depending on your skin's needs. If your skin tone is even but you still need to conceal some minor flaws, skip the foundation and instead use a full coverage concealer.
8. Accept your brows as they are.
We emphasize the necessity of grooming your brows, which is an often forgotten step. Don't forget to groom your brows as well. For no-makeup makeup looks, brushing up the brows makes the most difference.
Any brow gel or hair gel will help to keep your brows in place throughout the day. To smooth and shape your arches, simply swipe the wand up and outward.
Minimalist travel makeup bag
To begin, you'll require a multi-pocket, compact cosmetic bag to keep you organized. I use one that I bought in a cosmetics shop. My face items are kept in one zipper, my eyes in another, and my instruments are kept in the front zipper pouch. The size prevents overpacking and is large enough to hold a full-face kit of basic needs.
Conclusion
Aim for less but better results. Choose multipurpose items that will save you time, such as this multi Stick for cheeks and lips. It's moisturizing and can be used on the lips and cheeks. Having a well-organized beauty purse can make getting ready more enjoyable.
Having less clutter in your beauty area will help you feel less stressed.
It may seem self-evident, but MESS makes it more difficult to unwind. If you're still on the fence about downsizing your cosmetic collection, consider this: Are all of these beauty items bringing me Delight or Tension?
If the response is Pleasure, then don't change anything! If it's the latter, Tidying up is the way to go! It's easy to maintain your room clean and uncluttered when you have a compact minimalist cosmetic station.
Summary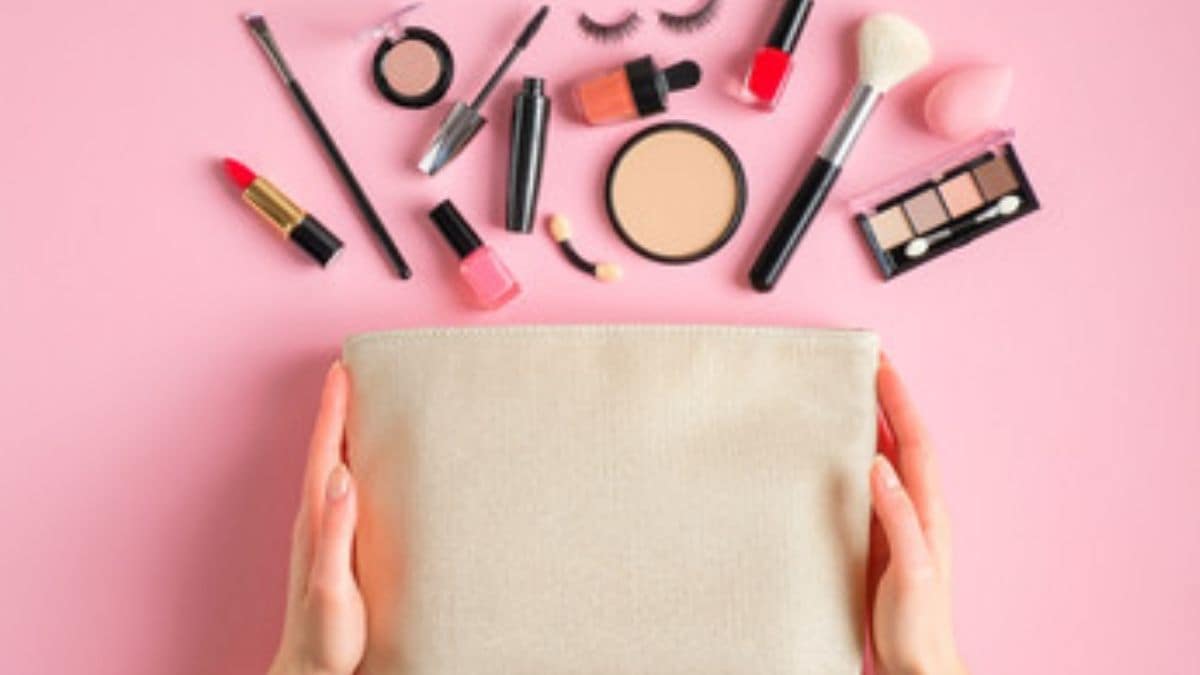 Article Name
How To Create A Minimalist Makeup Bag
Description
Minimalism seems to be trending these days and it's not hard to see why. If you're looking for ways to simplify your life, or just find more time to savor the things that matter most - minimalism may be the key. Right now, minimalist makeup is really popular. Keeping your cosmetics collection to a bare minimum can help you save money, space, and time. Hence the need to learn how to create a minimalist bag.
Author
Publisher Name
Publisher Logo