How to get silver hair without bleach
Given how quickly trends come and go, it's nearly impossible to keep up with what's new in the beauty and fashion world. Is it one of the most recent fads? People are dying their hair silver for a stylish, sophisticated look in this hair trend. While silver or grey are attractive tones, they are also difficult to acquire naturally unless you are of a certain age. You can easily use different methods on how to get silver hair without bleach.
Introduction
Everyone who has colored their hair or has done so in the past is aware of the bleaching technique. This occurs when our natural color needs to be lightened before dyeing, and it necessitates the employment of very strong chemicals to remove the pigment from our earlocks.
During the treatment, the alkaline agent is put to the tresses to open the cuticles, and then the oxidative product is administered. The locks would not be able to become lighter without it.
This treatment is so effective that even the darkest strands will turn silver after just a few sessions!
There are various hair dye products on the market that you can use on your tresses. But how can you know which is best for your hair? Or which items help you achieve your goal? Hair colors frequently contain peroxide and bleach, which alter the natural structure of your hair and cause hair damage.
Grey hair can be achieved in a variety of ways, including bleaching. You may color your hair grey without bleach in a variety of natural ways. The procedure varies depending on your original hair color and how you dye it. The lighter hair can usually be colored grey without bleaching. If you go to a hair salon, be sure they don't use any type of bleach on your hair.
Why is Using Bleach a Big No-No?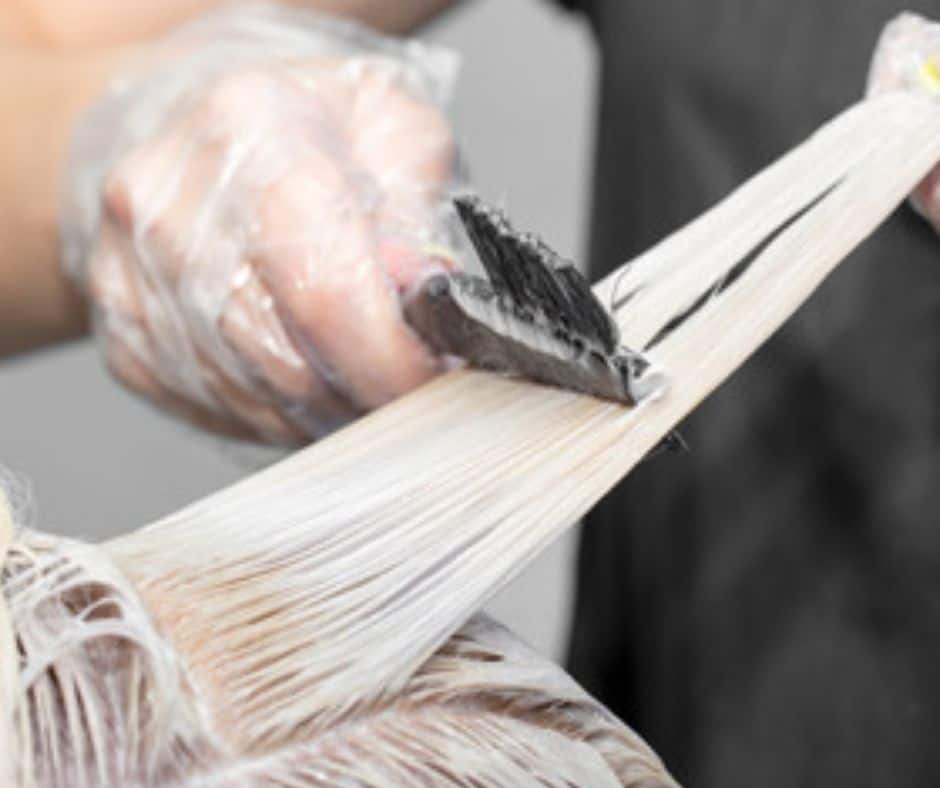 Bleached blonde hair tresses are physically and chemically harmed, which is one of the biggest drawbacks. After this method, it is not uncommon for people to have brittle and dry hair prone to breakage strands.
Naturally, because the use of bleaching products is so dangerous, everyone would prefer to preserve their hair as safely as possible. In each case, the subject of what covers gray without bleach arose.
Breakage is a more likely scenario. Many people confuse this with their hair falling out, but the two are completely different. When a strand of hair snaps off somewhere along the shaft, this is known as hair breakage.
If your hair isn't properly bleached and cared for, it might break rather easily. It can result in choppy do and haphazard layers, but it can be avoided! You should be able to maintain your hair healthy and avoid breaking if you complete your study on post-treatment hair care and follow your hair care professional's advice before bleaching.
No one is scaring anyone, but you should use caution when bleaching your hair to ensure that your scalp is safeguarded.
You should read my post on why you shouldn't wash your hair before getting your hair colored since the natural hair oils on your scalp are crucial. If you make mistakes in washing your hair on the day, it will not be pleasant.
People that bleach their hair must color it every five to eight weeks, depending on how quickly their hair grows in your beauty budget, including in the ongoing costs of having vividly colored hair.
Bleaching your hair does make it prone to damage, can make it brittle, and is an uncomfortable scenario for women.
After learning about a slew of disadvantages, keeping track of bleached hair can be added to the list. You may spend a few minutes of each day looking after it.
Furthermore, a daily hair care routine must be followed, including the use of safe hair products to maintain your hair's protection.
Dye Hair Dark Grey without Bleach: Methods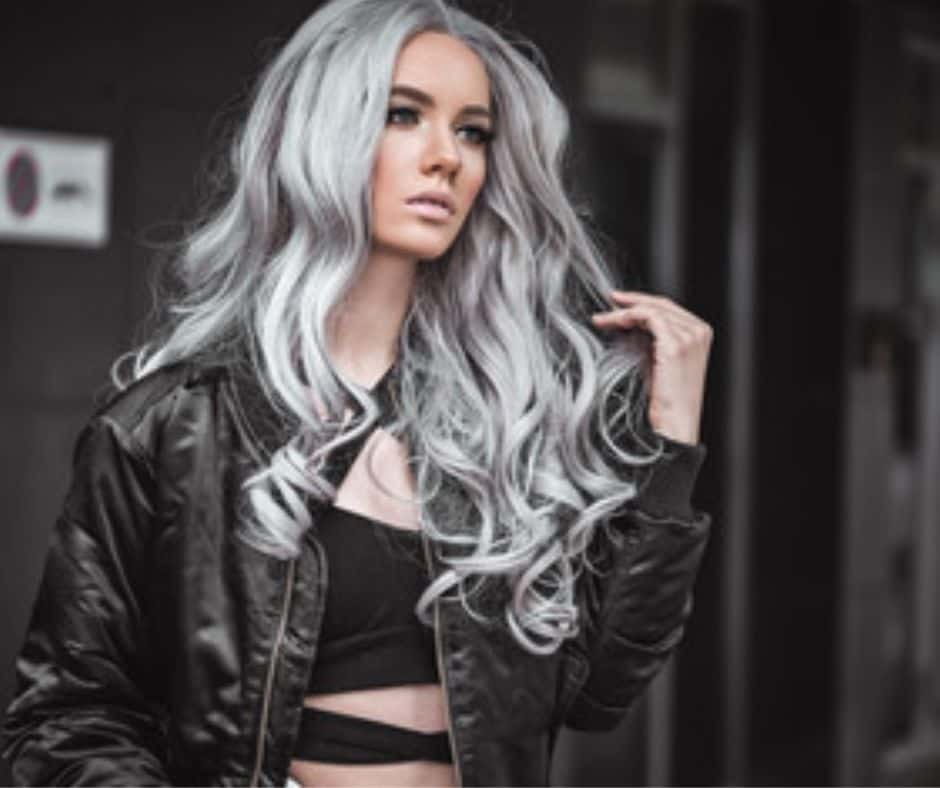 Why wait for your hair to go grey on its own when you may color it grey shades without bleach and experiment with a new look? Anyone interested in adopting this trendy new style should know that it is possible to do so without resorting to pricey dyes or dangerous bleach.
Hairspray and Traditional dye
A great option for people who want this hue to linger on their heads for a while rather than becoming an inextricable part of their daily routine! Furthermore, because the product contains no bleaching agents, this is a safer technique.
Today, the market is flooded with many shades of grey hair dye for the chevelure, so all that is required is a careful selection of the hue.
Also, keep in mind that such a product will only stick to dry hair and will not last long. And, of course, wear protective clothing when coloring, as these sprays are quite easy to stain.
Traditional dyes and sprays are two of the most popular possibilities. Many of these useful products can be found locally without having to adhere to a rigid salon schedule, and when dying hair without bleach, they can save you a lot of money in the long run.
This could be a better alternative for someone with darker hair who wants to try out the grey hair trend. The application of these alternative sprays, lotions, and colors varies, with some requiring more effort than others!
Some creams require as little effort and upkeep as opening the container and applying the ingredient to your hair, while others demand some time and effort to keep the perfect look. Many of these products are free of bleach and other toxic ingredients that can ruin the health and texture of your hair.
Similar to alternative sprays and dyes, keratin conditioners let you achieve that great grey color while also caring for your hair.
These conditioners can color and repair your hair at the same time, giving you a more polished and sophisticated look. These are excellent products for anyone concerned about the use of chemicals and bleach. There are numerous conditioners on the market that are both safe and reasonably priced.
While there are numerous sorts of these conditioners available, keep in mind that they are not permanent remedies and only include a temporary dye.
Those who use this form of hair dying must be diligent in their maintenance. This option may not be the greatest for you if you're seeking a more semi-permanent solution.
Chamomile Tea Appearances sometimes be deceiving; chamomile tea is capable of becoming much more than a calming beverage. Chamomile tea includes compounds that aid in the lighting process, in addition to being a delicious drink. By putting chamomile tea into your mane, you can lighten it by two to three shades.
It merely takes a few easy steps to implement this solution. It entails steeping at least five tea bags in hot water until they are cool. Then immerse your hair in the steeped solution directly or incorporate it into your shower and shampoo routine.
Allowing the hair to air dry without using any additional heat is an important aspect of the procedure. It's also vital to continue these processes every few days until you find a hue that works best for you. If you have naturally lighter-toned hair, this could be the ideal answer for you, and it won't take long at all!
There are many different varieties of silver-grey hair dyes on the market. The one that is ammonia-free and has vegan hair color should be chosen.
Silver hair tints can last anywhere from 3 to 4 weeks, depending on how often you wash your tresses. People with light brown, dark blonde or dark brown hair can use this silver dye to produce a grey tint rapidly and dye their hair dark grey.
Baking Soda and Hydrogen Peroxide
It's also possible to lighten your hair with a mixture of hydrogen peroxide and baking soda. A mixture made of baking soda and peroxide will settle your hair and do the task. Apply three tablespoons of peroxide and three tablespoons of baking soda to your hair. Allow it to sit for 40-60 minutes before washing it.
One of the simplest ways to color your hair grey is with natural hair wax color lotion. It is bleach-free and does not include any other dangerous substances. You can try out a variety of products on the market.
Simply open the jar, scoop out the desired amount, and apply it to your hair.
Adding a mixture of lemon juice and water to your shower and shampoo routine might gradually lighten your hair color.
Another way to use lemon is to spritz and apply the combination directly to your hair, then sit in the sun and let nature do the rest.
When it comes to dying your hair grey more naturally, honey and other essential oils can help. In these concoctions, you often add honey, coconut, and other essential oils to a blend and apply directly to the hair, exactly like with lemon.
How do I get my hair from brown to silver?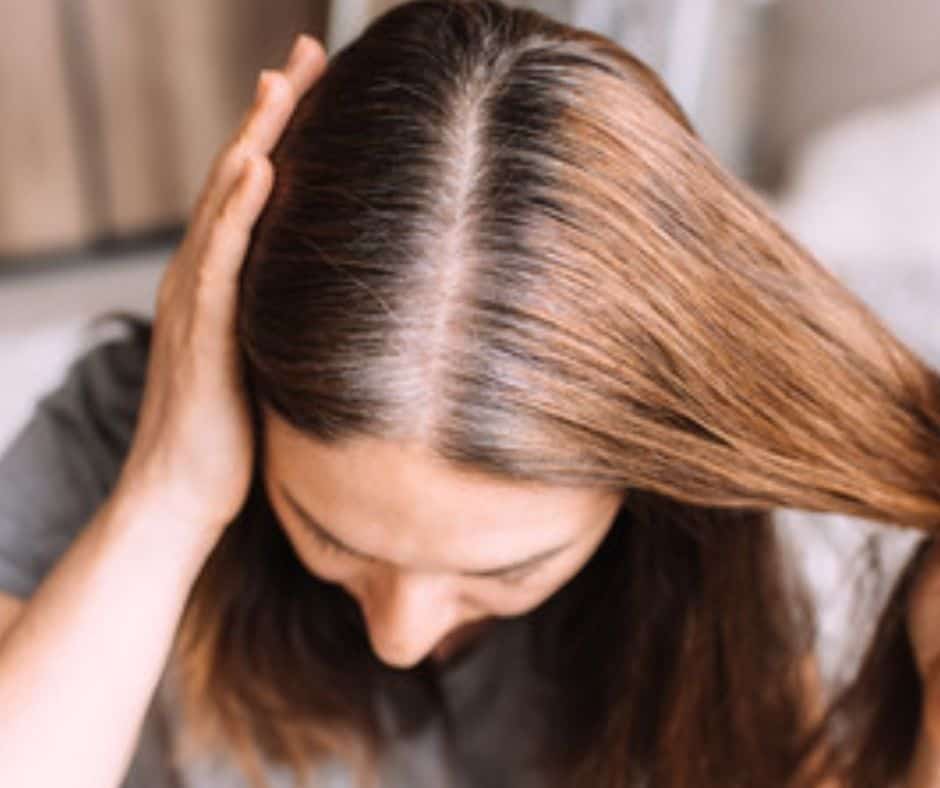 Keep in mind that making black hair to grey is more difficult. Some may argue that going from black to grey hair color without using bleach is impossible.
White and purple toner is similar to bleach in that it removes any orange or yellow tones from your hair and leaves it with a lovely silvery tone.
Toner can be purchased at a beauty supply store or from retailers such as Hot Topic or your local drugstore. Replace the gloves and divide the hair into four to six parts again. Keep in mind that you want to stay sanitary and avoid getting dye on your hands. Wear a different pair of latex gloves than the ones you used for bleaching.
Reapply vaseline to your scalp and hairline. Carefully apply the vaseline all over the skin around your hairline once more. This will prevent the dye from discoloring your skin.
Apply the color to the hair in a uniform manner. From root to tip, you'll want to make sure each section is covered. Apply the dye immediately as well, because freshly bleached hair frequently absorbs color quickly. Otherwise, you can wind up with purple strands if you don't keep an eye on the color and rinse your hair after the correct shade is obtained. If you miss a place, it will appear pale yellow while the rest of the region appears silver, so be careful.
Hair should be rinsed, washed, and conditioned. Once your hair has achieved the desired silver tone, rinse it well with cold water to remove any remaining dye. Then, to protect the silver color from washing out, wash it with a color-safe purple shampoo and condition it with a color-safe conditioner. Shampoos and conditioners that are color-safe can be purchased at your local pharmacy.
It's much more difficult to color brunette hair to grey if you don't know how to do it correctly, especially if you don't want to use bleach on your curls. To acquire the color you want, you'll need to combine certain hair dyes to your hair cuticles.
Those who use this form of hair dying must be diligent in their maintenance. This option may not be the greatest for you if you are seeking a more semi-permanent solution. Silver is one of the most difficult hair colors to achieve and maintain. Because it fades quickly, you'll want to stock up on some things to help keep the color.
What Happens If You Bleach Grey Hair
You may simply join this fun and stylish new trend no matter what your hair looks like right now. Any of these ways will undoubtedly assist you in rocking your fun grey locks.
Finding and maintaining the correct products to help your hair stay its stylish new style will be another important step, in addition to all of these great new suggestions.
There will be no noticeable difference if you bleach gray patches of your hair. The bleaching mixture, on the other hand, aids in the lightening of black hair. Depending on how long you keep the bleach mix on, your hair will be uniformly blonde or white.
While it may vary based on your natural hair color and structure, it is critical to find a healthy technique to create the style you want without jeopardizing your hair's health! Good news: whichever type of hair you have, there is a shade of grey out there that is just right for you.
Gray hair lacks melanin, which gives hair its distinctive color and also preserves it by strengthening it and ensuring that UV rays do not interact with keratin and lipids in your hair.
The problem is that there is no protection if there is no melanin. Gray hair is weaker, straw-like, or scratchy, and more susceptible to yellow or color change as a result.
How do I know if silver hair will suit me?
Bright colors look the best with silver hair; it suits anyone and makes one look vibrant. First and foremost, think about your skin tone. On olive and pale skin with yellow undertones, silver-grey hair looks best. Your skin may appear hot and inflamed with a cool grey tint if you have a pink tone.
What color does silver hair fade to?
Silver is one of the most difficult hair colors to achieve and maintain. Because it fades quickly, you'll want to stock up on some things to help keep the color.
Silver hair will fade into a cornhusk yellow, pale green, or yellow similar to what hair appears like shortly after bleaching if it isn't cared for properly and with the right products, such as Keratherapy's Totally Blonde and Color Protect lines.
Because silver hair fades quickly, you'll need a solution to keep it strong in between dye treatments. Use a colored shampoo that is also color-correcting to keep the yellow tones out of your silver hair for as long as feasible.
If you find yellow tints in your hair, use purple shampoo, and when the color starts to fade, use silver or gray shampoo. After you've gotten your hair wet, apply the shampoo. Before rinsing it out, let it in for the duration suggested on the label (typically 10 to 30 minutes).
Even after bleaching your hair, there's a chance you'll end up with discolored hair, which is unsightly. When we try bleaching our hair at home, it can create the impression that we aren't taking proper care of it.
Conclusion
Choose the choice that is most comfortable for you once you are aware of the various possibilities for making your hair grey without bleach. When compared to procedures that contain dangerous chemicals, these solutions will not make your hair dry and dull when used.
It will let you manage your hair with ease while also shielding you from the damaging effects of bleaching. This advice is simple to follow and will help you acquire the natural grey hair you desire.