I am sharing with all my readers here,  about my favorite purple shampoos and conditioners. I have been testing purple shampoos and conditioners forever, I am not a natural blonde in fact I have very dark hair, I go get my hair done every 6 to 7 weeks. I'd like to try new products to see what can get me more blonde see what truly works what's best for your money. Stuff like that!
I have tried I don't even want to say how many products because I would get mad at myself for how much money I've spent on them but I've tried it a lot. Now, this is not an all-inclusive list of every purple shampoo and conditioner out there. I don't have a cosmetologist license so I can't go into the store and buy it that way however these are just products that I have found on drug stores. If you like these products please let me know in the description box down below or if there is another Holy Grail purple shampoo that you love. What is Toning Shampoo
Toning shampoo is a hair treatment product that can be used on wet or dry hair. It has been widely used in the beauty industry for years. But if you are a curious
What is purple shampoo good for?
The purple shampoo contains a purple pigment that is used to tone down the brassiness in your blonde hair. Originally it was created for people with gray or platinum hair. Now people use it to just brighten up their blonde if you're a natural blonde you can use it. If you're a chemical blonde you can use it. It just cools down the shades of yellow and the brassy tones because it is the color opposite.
Benefits of Toning Shampoo
Tone Shampoo contains vitamins, amino acids, and other ingredients, which help strengthen hair follicles along with strengthening the hair roots. It also works as a conditioner, locking in all the moisture that is required by the hair follicles thereby maintaining them healthy and strong.
How to Use Toning Shampoo
Tone shampoo is a great way to improve the appearance of hair and make it more vibrant. It can also be used as a styling product by adding water to the good conditioner, where it can rejuvenate hair follicles.
How to use Tone shampoo: You will have to apply one ounce of Tone shampoo on your scalp, rinse it off and cover your head for about 20 minutes until the skin starts to recharge. Then apply another one-ounce of tone shampoo and rinse away completely after that process. This treatment will help you get rid of dead skin cells and look healthier.
How many times do you have to use purple shampoo on bleached orange brassy hair to get rid of the orange pigment?
If it's brassy shades then once or twice applications of purple shampoo can tone down the hair. If you have goldish or yellow-orange tones, then Purple shampoo will neutralize Gold or Yellow-Orange by making it look tan or Sand
For how long should you leave the purple shampoo on hair?
It depends on the level of brassiness of hair, typically leave on for two or three minutes.
Can I bleach my hair after using a purple shampoo?
If your hair is extremely damaged, then it's best to allow hair to heal first before bleaching. Although purple shampoo is not damaging for hair, it can be drying. Hence, do condition and oil your hair well to retain moisture.
Can I apply purple shampoo to dry hair?
No, it is not advisable to apply purple shampoo to dry hair. The reason being is hair tends to absorb more purple pigment when its dries. Due to porosity levels in dry hair, the purple pigment in the purple shampoo will not be evenly distributed.
Can you use purple shampoo on dark hair?
Purple shampoo is a highly effective hair coloring agent used in the color world. It also works well in dark hair. The shampoo's violet color makes eyes look even more beautiful and its lightening effect makes the skin brighter. If you are going to use this product, do not forget to use a light hand with this drastic product!
This post may contain affiliate links. Please read disclosure for further information.
1. Amika
So my very first product is this one by Amika Bust Your Brass Cool Blonde Shampoo. Now I only have the travel size because I actually brought this on a recent vacation. I'm so glad I brought this one. It's so good.
Actually, it was for a wedding and the bride was like your hair is so bright and I was like yeah just for your wedding but in reality, I hadn't used it before. So I was really rolling the dice on that one. Now I have used basically all of it, so I can't squirt it out but it is just a really nice purply color.
I do want to add that it's only recommended to use purple shampoo one to two times a week in place of your regular shampoo. So I use this probably only twice a week and I only really wash my hair two to three times a week anyway.
I have used shampoos that have turned my hair purple. I'm not recommending those two today. It's just like a darker purple I really like this. I'll put it in leave it in my hair for like a minute and then rinse it out. That's how I do all these purple shampoos.

This one I really like because a lot of the shampoos have harsher ingredients in them and your hair is not very soft in the shower you know you put shampoo in and then you rinse it out on your hair just like Maddie. This one's not that bad now the conditioner that comes with it, it's kind of purply too. 
I actually like that because when I feel like both of these are working out well for me however I want to say this conditioner doesn't like condition like a normal conditioner would.
I actually have put this on my hand and then mixed in another conditioner on top of that just to kind of spread it out and to get my hair a little bit treated however your hair looks really really bright after this. This is a nice product.
2. Joico
The next one is Joico Color Balance Purple Shampoo & Conditioner by Joico. This is their color balance purple it says that illuminates brassy yellow tones. If you are blonde/gray hair you will really like Joico. I feel like their other shampoos that aren't necessarily purple but for color-treated hair just to make your hair softer or to make your hair not as frizzy those work really well. So I really wanted to give us a try and this actually came recommended to me.

It comes out in more of a darker purple shade and it is a little bit thicker which I actually like in it and it really just makes your hair feel really really soft.  When you put it on it's not too harsh and it does leave your hair really really bright. Now their conditioner comes out in this kind of lavender color and I really do feel like this conditions your hair nicely but I don't know if that really neutralizes the brassiness although in my head it makes it feel like it does.
3. Matrix Total Results
My third one is these color-obsessed by Matrix Total Results So Silver Color Depositing Purple Shampoo. I used this quite often and it makes my hair looks nice and right and blonde. It's a really dark purple. I love dark purple. I just know that it's working on my hair. I don't leave this on for very long because I am a little bit afraid that it's going to turn my hair a little bit purple but it just feels really, really nice.

When it goes on it's not too harsh on your hair and then the conditioner that they have it's not a purple of conditioner actually it's just like your regular old conditioner white conditioner. I really like this. I feel like my hair is extremely soft every time I use it.  It really truly does condition your hair.
4. Redken Color Extend Blondage Color Depositing Purple Shampoo
Now my last from like the higher-end category is Redken Color Extend Blondage. This really helps my blonde stay. It is one of those like darker purple's kind of the same consistency this one smells really nice I love Redken products a lot of salons that I've gone to use Redken products and I know that they have their staff use it, right kids, a really, really great brand it's been around forever conditioners really nice this is more of a lavender conditioner again it just really makes my hair feel soft.


5.  L'Oreal Paris Ever Pure Blonde Shampoo
More affordable options that I have are firstly this L'Oreal Paris Ever Pure Blonde Shampoo. I use these a lot of times like in between the dark purples or if I'm out of the dark purple or I don't whenever if I can just pick it up. I actually can buy them at our local grocery store.
This shampoo is a little bit more lavender but won't give you that huge contrast. I do really really like this conditioner. Again a lavender color. I feel like it really conditions nicely. Sometimes I will mix this lavender conditioner and with some of those other conditioners if I don't feel like they're really making my hair very soft as it can be.


6. Not Your Mother's Blonde Moment Treatment Shampoo
Lastly Not Your Mother's Blonde Moment Treatment Shampoo. I use them as a set this is not your mother's blonde whole mint treatment shampoo this is a reality I can't get it out or you can see I've used this a while it's a dark purple I think I got this one at Target you can buy them at all top it's in the neutralizes brassiness again has violet rice in it I really know what violet rice does but it does make your hair feel pretty matted. So you need a really good conditioner.

7. John Frieda Shear Blonde Color
A really good conditioner that I'm so excited I found is this John Frieda sheer blonde color renew. Now John Frieda does make a blonde it's in like a yellow bottle but this is a purple bottle it is a little bit more of a lavender conditioner but it makes your hair feel so soft and it's extremely affordable

okay those are all the products that I have for you. Let me know if you liked any of them or let us some products that you use that are not covered here that work amazing for you!
Summary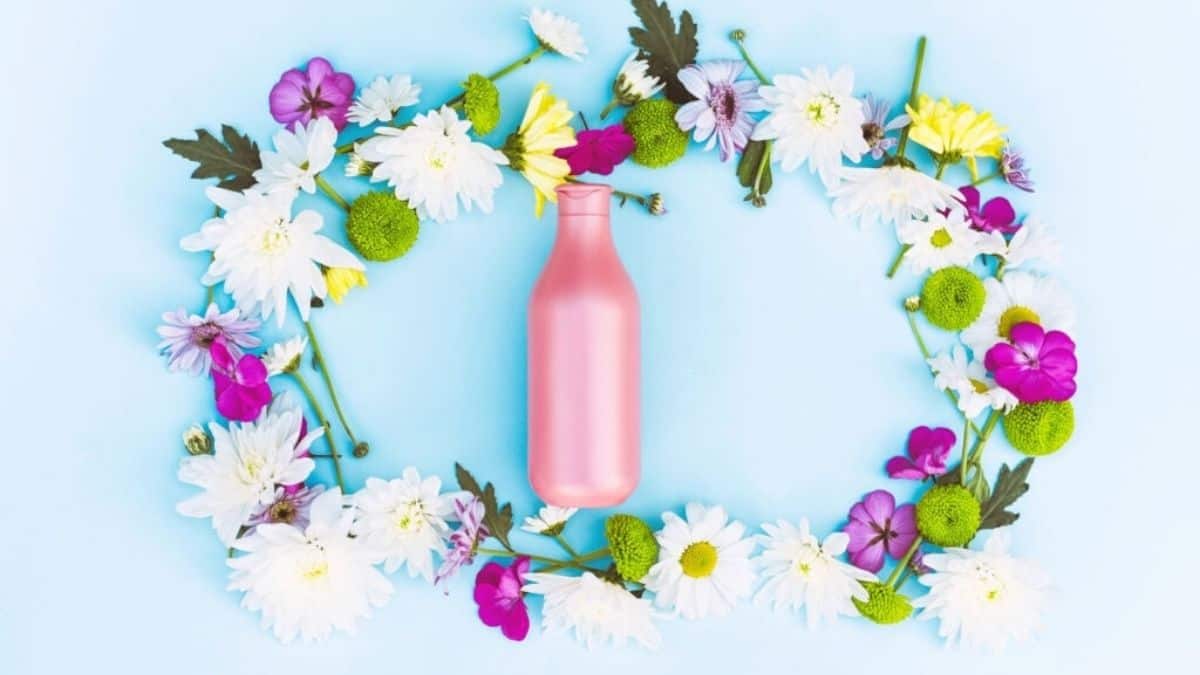 Article Name
7 Purple Shampoo For Toning Brassy Hair
Description
I am sharing with all my readers here,  about my favorite purple shampoos and conditioners. I have been testing purple shampoos and conditioners forever, I am not a natural blonde in fact I have very dark hair, I go get my hair done every 6 to 7 weeks. I'd like to try new products to see what can get me more blonde see what truly works what's best for your money.
Author
Publisher Name
Publisher Logo