Sometimes all you need is a fresh hairdo – one of the best things about curly hair is its adaptability! A blow dryer may also enhance volume and definition while also significantly speeding up the drying process.
When you do decide to use the heat, make sure you use a heat protectant beforehand. These products are designed to act as a thermal barrier between your hair and the elements. The difference between fried hair and healthy, happy curls can be determined by this layer of protection.
What can I use as a heat protectant on natural hair?
Maintaining hair's health, vitality, and attractiveness requires the use of a heat protectant. These natural heat protectants are everything the beauty regimen has been missing for nonstop shine and hair that is soft to the touch and easy to manage. In addition, these natural heat protectors might eliminate the need for a trip to the beauty store in favor of a trip to the supermarket.
Selecting an oil
Although it may be tempting to use whatever oil is on hand, only specific natural oils can provide complete heat protection against flat irons. Always verify that the smoke point, or the temperature at which the oil begins to burn, is at least 350 degrees Fahrenheit or above.
Coconut oil
We've heard for years how wonderful coconut oil is in and out of the kitchen. Coconut oil is a wonderful natural heat protectant for flat iron and hot tool users everywhere because of its high smoke point and hydrating properties. However, we recommend never using any heat more than 350 degrees on fine or thin hair. Thus a smoke point of 350 degrees is excellent for women with thin or fine hair.
Coconut oil has anti-fungal, anti-microbial, and anti-dandruff effects. In addition, coconut oil will repair and safeguard hair's health if a regular flat iron habit has left it feeling dry and damaged. Continued usage will result in long, beautiful hair that will be the envy and admiration of all.
Oil of grape seeds
Unlike the other oils that may be utilized as natural heat protectors, Grapeseed oil is not a substance that we had to go out of our way to obtain. If you open the pantry or look around the kitchen, you'll most likely find a bottle of this nutritious oil. Of course, if none are on hand, a short trip to any health food or grocery shop can solve the problem in no time. Grapeseed oil is wonderful since it has a high smoke point, much like the other oils.
This implies that hair will be safeguarded from smoking caused by a hair straightener's high temperatures. Women with thick or coarse hair should use grapeseed oil since they are more likely to utilize flat irons that can reach 420 degrees, the smoke point of grape seed oil.
Hair grows strong, healthy, and attractive with the help of these nutrients. We always recommend buying almond oil that is organic and cold-pressed. This is available at any health food store. Almond oil benefits can be obtained with just a couple of drops.
Shea Butter
Shea butter is not only good for your skin and body, but it also protects your hair from the heat of a flat iron. Shea butter's inherent thermal conductivity makes it a natural substitute for silicones, which are included in most heat protectors. The most prevalent silicones used in heat protectants are dimethicone and Cyclomethicone. Silicone forms a protective coating on strands that makes heat from a flat iron or hair straightener impossible to penetrate and harm hair. The natural properties of shea butter work in a similar way.
What should I put on my hair before a heat?
According to experts, heating hair changes the strands' interior structure and mechanical characteristics by evaporating water molecules' inner cortex. This allows you to alter your hair's natural curl patterns (i.e., straighten your curls or vice versa), but it may also produce frizz and cause your hair to dry out. In addition, high temperatures can cause cuticle fractures and ruptures, leaving the hair even more prone to harm in the future. Finally, heat can cause keratin in your hair to break down, affecting the strength and texture of your hair.
Depending on the type of heat protectant, you can use a heat protectant on damp or dry hair before using hot equipment like blow dryers, curling irons, and straightening irons. Then, section by section, comb through to evenly distribute the product.
What is a good natural heat protectant for black hair?
Avocado oil, coconut oil, grape seed oil, olive oil, and sunflower oil are great natural heat protectants. While avocado oil and coconut oil are great ingredients for keeping the hair nourished and moisturized, olive oil is known for softening the hair and nourishing it with vitamins.
What do you put on natural hair before flat ironing?
Natural heat protectors include avocado oil, coconut oil, grape seed oil, olive oil, and sunflower oil. While avocado and coconut oils are wonderful for keeping hair nourished and hydrated, olive oil is recognized for softening and nourishing the hair with vitamins.
Interested in seeing how long your hair is or simply want to see how versatile straight hair is? If you're like the majority of naturals, you're also concerned about heat damage. This post will show you how to flat iron natural black hair to avoid heat damage and will walk you through a basic regimen to help the process go smoothly.
Begin with well-conditioned hair.
Naturals should only flat iron their hair if it has recently been shampooed. Consider the following questions: Is my hair clean, moisturized, and well-conditioned? If not, switch off the flat iron and stick to your shampoo and conditioner routine.
Do your part to make sure you're only utilizing heat when your hair is in the best possible condition to avoid damage. For example, only use a flat iron on hair that has been properly cared for and conditioned; otherwise, applying heat to brittle, dry hair will only result in heat damage.
Create a plan. Make Your Hair Detangle
Separate your hair into four parts once it has been cleaned and conditioned, being care to untangle each area. While you may be tempted to speed through this step, do so with caution because it will have a significant impact on your ultimate results, as well as the time it takes to dry and flat iron.
Decide if you want to air dry or blow-dry your hair.
Decide how you're going to dry your hair once it's clean and well-conditioned. Air drying is preferable whenever feasible since it reduces your exposure to the second source of heat. If you're going to blow dry your hair, make sure you select the lowest setting for your hair type.
Apply a Heat Barrier
Before blow-drying or flat ironing your natural hair, make sure you use a heat protectant. Apply a heat protectant to every part of your head, starting at the root and working your way up. While a heat protectant acts as a barrier, even the best brands can't withstand excessive heat.
Can Leave-In Conditioner be used as a heat protectant?
Isn't leave-in conditioner rather self-explanatory? It's essentially a conditioner that you don't rinse out of your hair. And while you may already know that it's supposed to be used after shampooing your hair, you should also be aware of its advantages and why you're leaving it in the first place. So we put together a simple guide to explain what a leave-in conditioner does for your hair.
How to find the best leave-in conditioner for your hair type
Leave-in conditioners come in a variety of formulations. It's better to utilize products designed specifically for your hair type.
After you've colored your hair or had chemical treatments done to it, you should treat it.
After dyeing your hair, you'll want to revitalize and strengthen your tresses. Make a perm with bleach, hair color, relaxers, texturizers, or any other chemicals. Your hair will feel and look extremely damaged and fragile, which may eventually lead to breaking. On the other hand, many leave-in conditioners are made with proteins that are easily absorbed into the hair shaft, such as hydrolyzed wheat protein. The protein aids in hair follicle regeneration and forms a protective barrier around your strands. However, don't go overboard with using a protein-based leave-in: Only use leave-in conditioners after or before chemical treatments to avoid protein excess.
For dry and extra-dry hair, a leave-in conditioner
You can repair damaged hair with a deep conditioning treatment or a hair mask. Still, a moisture-based leave-in conditioner offers additional advantages since it extends the hydrating and conditioning process. Your hair will stay smooth and manageable after applying the conditioner, which is especially helpful for textured hair types because the oil from your scalp isn't enough. In addition, a moisture-based leave-in treatment can help rescue the day by replenishing and treating your locks.
What should I look for in a heat protectant?
Always try to protect your hair as much as possible.
It goes without saying that you'll need a heat-protective hair product. First, check the ingredients list to see whether silicones are included to guarantee that the heat protectant coats and protects your hair from heat damage. Cyclomethicone (which forms a moisturizing film on your hair) and dimethicone are two of the most prevalent silicones used in heat protectant sprays (which keeps hair smooth and prevents moisture loss).
Look for a frizz-fighting product.
When used with the proper flat iron, an excellent heat protectant prevents hair from heat damage. In addition, it helps to reduce frizz by locking in moisture and sealing the hair cuticle.
Use a conditioning spray to protect your hair.
When it comes to healing damage to your hair, moisture is your best friend. Hair damage is worsened when your hair loses moisture, which happens when you use a blow dryer or flat iron to straighten your hair. Choose a hair protectant spray with hydrating qualities that condition your hair to counteract dryness and prevent it from fizzing off. Check for the presence of glycerin, shea butter, or aloe vera in the product.
How can I straighten my black hair without heat or chemicals?
There are a few techniques you may use to obtain straight hair without frying or scorching it. Most of these tips will work better for those who have finer hair with a slight wave.
Using cold air, blow dry your hair
If you've already mastered straight and smooth hair with a traditional "blowout," try mixing it up a little by using cold air blasts instead.
Wrap your hair in a bun
Hair wrapping is a common method for getting straight hair without using heat, but not everyone knows how to do it properly. Fortunately, YouTube has a plethora of hair wrapping methods for nearly any hair type.
Plastic rollers are used to roll
Simply split your moist hair into medium parts and roll the items into your hair before going to bed, or approximately four hours before you want to remove them. Although using these rollers takes some getting used to, some people with medium-to-longer hair swear by them.
Use hair straightening products
Shampoos, conditioners, leave-in conditioners, hairsprays, and just about everything else you can think of are all designed to help you relax and calm your hair. Experimenting with products designed for straight hair or to help style your hair simpler might be a good place to start.
Best Heat Protectants for Natural Hair
This post may contain affiliate links. Please read disclosure for further information.
Biolage Styling Thermal Active Spray

If you're looking for a long-lasting heat protector, look no further. It may be used as a medium hold styling gel to keep your curls in place while protecting your hair from extreme heat. It's designed to be used with heat.
2. It's a 10 Haircare Miracle Leave-In

This It's a 10 Haircare Miracle leave-in spray is another favorite of Everett's. The natural components, including sunflower seeds, green tea leaf extract, and silk amino acids, ensure that your hair is in excellent hands. All of these products help to give hydration and gloss to your hair. Cantu Shea Butter Thermal Shield Heat Protectant.
To provide extra conditioning and smoothness, spritz a few pumps of this spray straight over damp hair before blow-drying. Shea butter is used in the mild recipe, which helps nourish and tame troublesome flyaways.
3. Mizani Thermastrength Heat Protecting Serum

Mizani's ultra-moisturizing serum might help you achieve your hair objectives. This serum is light and suitable for textured hair, containing shea butter to moisturize and provide the oasis your hair requires. It's especially useful for minimizing breakage while using hot products like blow dryers and straighteners.
4. Design Essentials Natural Agave & Lavender Thermal Protectant Crème

Listen carefully if you have medium to coarse hair. When it comes to shining and avoiding humidity from showing up in your hair, this heat protectant crème is a winner. It also protects against heat up to 420 degrees for those of us who like to style with a flat titanium iron on its maximum setting.
5. Cantu Shea Butter Thermal Shield Heat Protectant

To provide extra conditioning and smoothness, spritz a few pumps of this spray straight over damp hair before blow-drying. Shea butter is used in the mild recipe, which helps nourish and tame troublesome flyaways.
Conclusion
Protect yourself from the heat by using a heat protectant.
It doesn't matter if you're curling one strand of hair or blow-drying your hair for five minutes. Unfortunately, heat damage does not often manifest itself quickly.
You'll believe your hair is in good shape until you look back at a photo from a few months ago and see that the texture isn't the same.
And, because I know you're not going to quit using heat on your hair, make sure you use it wisely.
Summary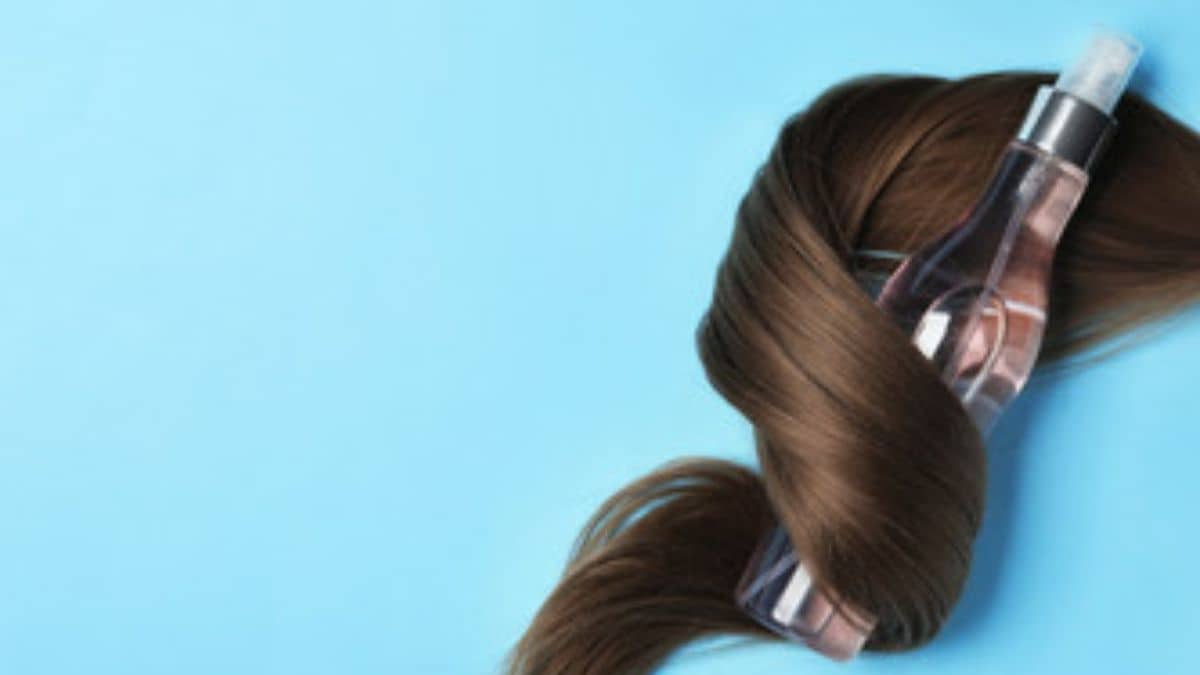 Article Name
What is a good heat protectant for natural hair?
Description
What is a good heat protectant for natural hair? If you must use heat, sid out one of the best methods to keep your natural hair structure intact.
Author
Publisher Name
Publisher Logo