If you've been styling your hair for a long time, you're undoubtedly aware of the age-old argument about which is better: ceramic vs. titanium curling irons. Which is better to decrease styling time, is up for debate
Introduction
When curling your hair, you want to be sure you're using the ideal product for your hair structure and style. As a result, the distinction of ceramic vs. titanium curling irons should be taken into consideration.
Because curling irons are heating devices, they each have their own set of benefits and downsides regarding how they will impact your hair.
It is a highly powerful hair straightener starting with titanium, but ceramic is kinder to the hair.
Take a moment to inspect and feel the ceramic irons straightener or curling iron. You'll note that they're made of a non-metal substance that's recognized for distributing heat more evenly and consistently on your hair shafts and makes hair smooth.
In addition, they use several methods to heat the hair. For example, the titanium warms the hair from the surface, whereas the ceramic irons plate heats it from the inside out.
Because the flat titanium iron warms up faster and reaches greater temperatures than the flat ceramic irons, it can straighten hair faster.
What is the difference between titanium and ceramic curling irons?
Ceramic Curling irons
Curling irons made of ceramic iron are the most popular type. They're easy to come by, whether online, in a drugstore, or at a beauty supply store. They're easy-to-use heat styling tools for beginners that anyone can pick up fast and produce smooth finish
However, finding a real ceramic curling wand may be difficult because most choices on the market just have a ceramic iron coating on the barrel rather than being made entirely of ceramic iron.
If you have fine hair, you must be cautious since it is extremely delicate and quickly damaged.
Remember that fine hair is simpler to straighten and shape, so you won't require much heat in the first place.
In this scenario, it's best to use a flat iron and a low-temperature curling iron to be on the safe side.
You may locate a styling tool with several heating settings so you can select what temperature works best for your hair type, or you can find an automated heating setting that is low.
Titanium Curling Irons
Titanium curling irons are common in salons and professional settings since they can survive being used repeatedly for various styles. if you are not a professional hairstylist, I would recommend Titanium curling wands.
It's composed of tough titanium that can be used regularly and provides constant heat. As a result, titanium curling wands with their durable material, can withstand extreme heat, conductor of heat while staying robust and resilient.
High temperatures help you work more quickly and style difficult hair, but they also put you in danger of risk of heat damage if you misuse the equipment. Titanium rods, however, have their benefits.
It is a highly powerful hair straightener starting with titanium, but ceramic iron is kinder to the hair.
Take a moment to inspect and feel the ceramic straightener or curling iron hot styling tool. You'll note that they're constructed of a non-metal substance that's recognized for distributing heat more evenly and consistently on your hair.
Durability, temperature capacity, and heat protection characteristics are the main distinctions between ceramic and titanium curling irons.
When shopping for a curling iron, keep in mind how frequently you style your hair and how often you want to use your curling iron. Ceramic curling irons are preferable for less frequent usage since the ceramic material might become brittle if heated too frequently.
Titanium curling irons, on the other hand, allow you to heat the iron as much as you like because titanium is a robust material that can withstand high temperatures. It uses infrared technology for great heat distribution
The types of hair that ceramic and titanium curling irons style best also differ. Because of its lower temperature and more uniform heating, the ceramic iron is excellent for treating or dyeing hair, as well as thin hair with past damage.
Titanium irons are ideal for styling thick, rough, or curly hair, which all demand higher heat.
The ability of titanium curling irons to heat fast to high temperatures and retain that heat for longer lengths of time than ceramic curling irons makes them ideal for certain hair types.
Ceramic curling irons are more expensive than metal curling irons because they require more handcrafting. They start at approximately $100 for a good curling iron, but they generally cost considerably more. Because titanium curling irons are easier to produce, they are less expensive, with even good titanium curling irons costing just under $50.
Ceramic vs. Titanium Curling Iron: Important Factors to Consider When Choosing the Right Material​
When deciding between ceramic and titanium curling irons, consider a few things;
Budget
Curling irons made of solid ceramic are among the costliest on the market. However, high-end titanium irons may be just as expensive. You can generally get a nice mid-range curler in both materials. However, the price may not always match the quality. Ensure that all general and electrical regulations are followed when purchasing a budget curler.
Heat Transfer
The time it takes for styling appliances to deliver heat to the hair strands is referred to as heat transfer. Flat irons or curling irons that heat up to the required temperature in less than 30 seconds are ideal.
Individuals with thick, coarse, or otherwise difficult-to-manage hair require a curling iron that can quickly achieve the desired temperature. Users with fragile, thin hair, on the other hand, do not require high temperatures to curl their hair.
Do you have a habit of hurrying out of bed in the morning? If you're constantly short on time in the morning, you'll need a styling tool that can keep up with your hectic schedule. Materials that take an eternity and a day to heat up will make the process take far longer than it should.
Type of Hair
Will it fit your hair type? This is one of the most essential aspects to consider when buying a curling iron. Ceramic is the best choice for people with damaged hair, as its ability to uniformly style hair at lower temperatures can assist avoid additional damage to your delicate tresses.
A thin hair also needs less heat for a lovely curl. If you're concerned about heat exposure, a ceramic curling iron may give you a fantastic style while using less heat. To produce a powerful curl that lasts all day, thick or coarse hair demands higher temps. Titanium can resist extreme heat, giving you the bouncy curls, you want.
Heat Conduction
When buying any sort of hot equipment, the capacity of a curling iron to conduct high heat is one of the most crucial aspects to consider. If your hair won't retain a curl, use a styling tool that generates a lot of heat to keep the curls in place.
To tame unruly, coarse hair, for example, heated tools with temperatures ranging from 380 to 450 degrees Fahrenheit are required.
Ceramic materials are regarded for their ability to hold a high level of heat while also distributing it evenly. The energy is distributed evenly over the heated surface of a ceramic hair curler.
Cold areas are common with titanium curling irons. Uneven, asymmetrical curls or curls that don't persist for more than a few hours may result from sudden changes in temperature. Because it would take multiple passes to produce or build the curls in cold places, hair damage is also a possibility.
Durability
Titanium is not only light and simple to work with, but it is also one of the most durable materials available. Therefore, a titanium curler may be the best option if you want to ensure that your curler will last a long period.
Ceramic is more delicate and requires more caution, but it may last a long time when properly cared for. However, it is also heavy to handle, something you should consider before making your purchase.
Is titanium or ceramic better for curling iron?
There's a lot to think about when buying a curling iron, from ceramic to titanium, wands to triple barrels (which inevitably makes for decision fatigue). However, the fact is that, while a lot of what you need to consider depends on your hair length and structure (as well as the sort of curl you want), once you grasp the basics, it's quite simple to understand.
Ceramic Curling Iron
The most popular curling iron material is ceramic, which uniformly distributes heat and smooths out the hair. Because they heat up hair from the inside out, they're especially good for thin hair types that can't take high temps. Instead of a ceramic coating, go for a curling iron with a whole ceramic plate. The infrared heat penetrates deeply into the hair, locking in moisture and reducing damage. In addition, the heat will be evenly distributed, resulting in a smooth, gleaming surface.
Titanium Iron
Titanium is the most robust, lightweight curling iron material, and it can sustain high heat settings for longer. It is used by expert hairstylists. This material is suitable for people with thick hair. Titanium plates heat up significantly faster, which is fantastic for pros. Still, the heat from the outside might cause more damage over time for an unskilled user.
Titanium, as previously stated, is an excellent heat conductor. It not only warms up, but it does so at a quicker rate. As a result, it saves time for women with coarse or thick hair. So, if you have the same hair type as me, Titanium is your best bet. Look for pure titanium plates rather than titanium-coated plates for optimal usage.
Titanium, on the other hand, is extremely sensitive and may burn even the tiniest hairs. As a result, ceramic is the ideal option for such hair types. Tyme Curling Iron is one of the most well-known examples of titanium curling irons. Its most recent version, Tyme Iron Pro, which was released in 2018, has gained appeal among hair aficionados.
Best ceramic vs. titanium curling iron?
This post may contain affiliate links. Please read disclosure for further information.
CHI Spin N Curl in Onyx Black
Are you considering altering your appearance by acquiring the greatest curls and waves? Then pull up a chair, and let's talk about how to get there.
With this CHI automatic hair curling tool, you can get precisely defined curls. In addition, the heat settings are customizable, which is great news for you. Depending on your hair texture, you may customize it to give a high or low temperature.

Golden Titanium 1 ¼" Curling Iron
Give the 14-inch, highest-temp Ion a try for a traditional clamp curler – it won for producing long-lasting curls, especially on coarse, thick hair. This iron outperformed the competitors in over a dozen areas, including grip and maneuverability, ease of use, compact size, and the ability to produce curls that stay in place. The shorter handle length "keeps my hand in an ideal position to grasp the thumb grip," according to users. In addition, the clamp is "as long as the barrel," which is especially beneficial for shorter cuts.

Conair Double Ceramic 1-Inch Curling Iron
Conair Double Ceramic 1 Inch Rose Gold Curling Iron creates beautiful, classic curls. Higher ceramic heat technology creates gorgeous, long-lasting styles with fewer frizz thanks to even heat. It creates natural-looking curls. There are 30 heat settings that can instantly heat up to 400 degrees, including Turbo Heat for difficult-to-style spots. The unique cool tip offers safe, easy handling as well as automatic shutoff. Dual voltage for international travel. Bonus packing pouch included.

Conair INFINITIPRO BY Titanium 1Inch Curling Iron, Black / Rose Gold, 1 Count
Defining curls is easy with the INFINITIPRO BY CONAIR Rose Gold Titanium Curling Iron. Titanium barrels reduce damage, eliminate frizz, and add shine. Maintain a steady temperature for long-term results. Reaches temperatures of up to 400 degrees Fahrenheit in 30 seconds and automatically shuts off. Heat is distributed uniformly throughout the unit, ensuring a constant temperature. This unit has a professionally-length cord.

Professional Series Curling Iron 1 1/2 inch by MINT
Curls that don't last? It's your low-end single-heater curling iron. The majority of curling irons lose heat after every curl, so using them can be frustrating and time-consuming.
Heat is the key to getting easy, long-lasting curls, beach waves, and volume. The Professional-Grade Dual Heater System comes to the rescue here. Your style will last all day long with even and constant heat from the base of the barrel to the top.
Additionally, the barrel of this curling iron is longer than most others, making it ideal for long hair. Its extra-long barrel prevents hair from overlapping, ensuring that every strand is heated evenly. Since each piece of hair spends less time on the barrel for the same result, the hair will not be damaged as it would be with other curling irons.

Conclusion
Ceramic vs. titanium curling irons provide excellent results, yet each material has advantages and disadvantages.
I propose limiting your search for a curling iron by the barrel material most suited to your hair type.
You may then modify your search to include any extra features you want, depending on your budget. Keep in mind that the barrel you pick might have a significant influence on the final look of your curls!
Summary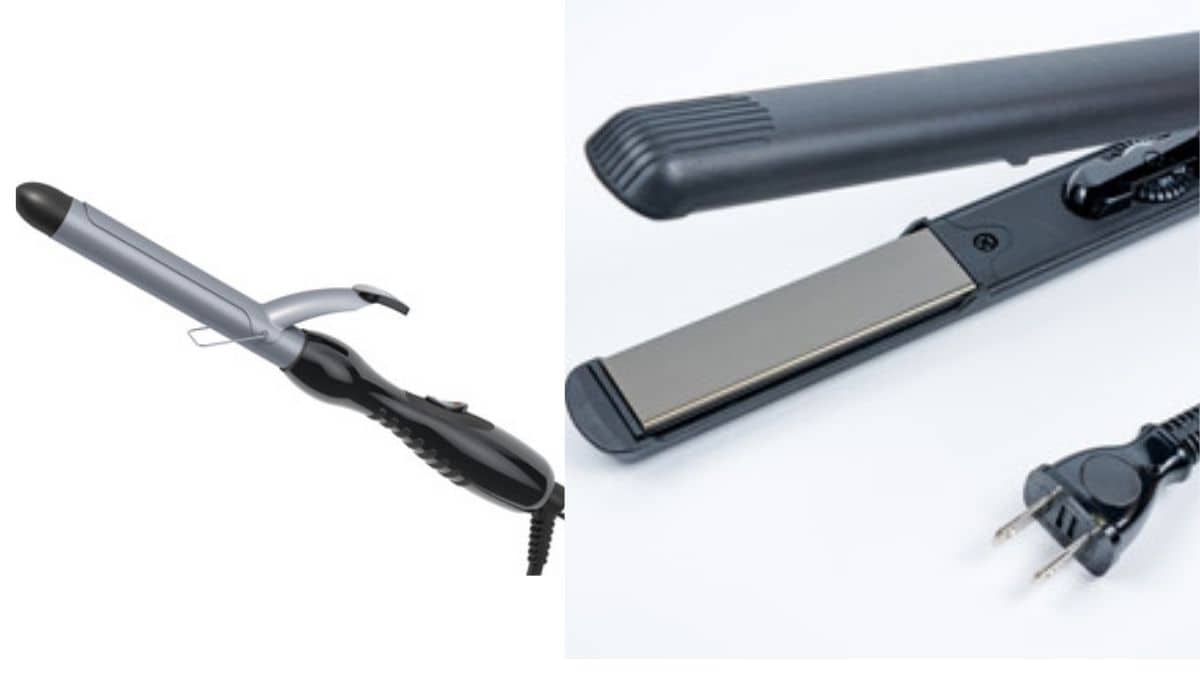 Article Name
Ceramic vs. Titanium curling iron
Description
If you've been styling your hair for a long time, you're undoubtedly aware of the age-old argument about which is better: ceramic vs. titanium curling irons. This post explains it all.
Author
Publisher Name
Publisher Logo